---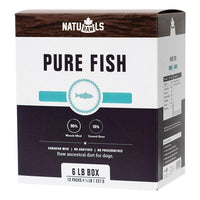 Naturawls Pure Fish is an excellent source of omega-3 fatty acids and is a great addition to their diet. Feed as a topper to their meal for an added boost of nutrition and flavour!
100% Canadian made and sourced
Ingredients
Salmon Fillets, Trout Belly Meat, Trout Bone
Portions
This dinner comes in convenient 1/2 lb packs – simply tear, thaw, peel and serve!
Feeding
As a Topper – Replace equal amounts of your pet's regular dinner with Naturawls Pure Fish
Adult – feed 2% of healthy adult body weight
Active – feed 3% of healthy adult body weight
Handling Guidelines
Keep food frozen until ready to use
Thaw in the refrigerator – food will be good for up to three days refrigerated
Wash all surfaces, utensils, serving spoons and bowls with hot soapy water after handling and feeding

NUTRITION INFO /100 G:
Calories — 145
Protein (min) — 18%
Fat (min) — 7%
Fiber (max) — 0%
Moisture (max) — 72%
Calcium — 1.10%
Phosphorus — 1%