---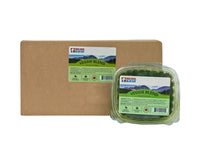 Even a tablespoon of fresh food per day can make a huge impact on your pet's health and longevity. Red, yellow, and green veggies are a great source of antioxidants and phytonutrients for your pet. Our veggies are pureed for maximum absorption. Thaw and mix into your pet's favourite meat meal. They are also a source of fiber needed to feed healthy gut bacteira. 

Certified organic kale, lettuce, yams, zucchini, and squash. approx. 1lb 
Thaw veggies and mix with your raw meat and supplements. Or add 1-2 tablespoons as a topper to your canned or dry food for some living foods.