---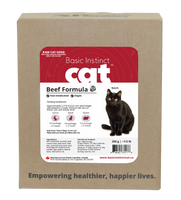 Basic Instinct Beef Formula is a popular "red" protein source for cats. Basic Instinct Beef is high in learn muscle meat, high in protein, and high in iron-all necessary  for a balanced diet.

Ingredients
Non-medicated, boneless beef, beef muscle meat,  beef heart, beef liver, steamed lamb bone meal, dried egg yolk, psyllium husk, agar, gelatin, filtered water, wild salmon oil.
Nutritional Analysis

Crude Protein 14.03%
Crude Fat10.31%
Crude Carbs2.400%
Moisture73.05%
Calcium1.00%
Phosphorus1.32%
Taurine36.4 mg
Calories137
Feeding Guidelines
Note: These guidelines could vary depending the breed and activity level of your cat.
Adult/Senior Cats: 100g – 200g per day
Portions can be divided into two portion feedings or given as one.
Kittens: 175g – 250g per day
Portions for kittens can be given 2-3 times per day