---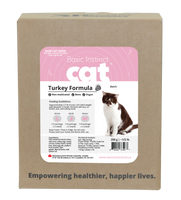 Basic Instincts™ Cat Turkey formula is a favorite for many cats.  It is a great white meat source with slightly lower fat ratios than chicken.
Ingredients
Non medicated whole turkey with bone, turkey legs, turkey carcass, turkey heart, turkey liver, dried egg yolk, psyllium husk powder, agar, gelatin, filtered water, wild salmon oil.
Nutritional Analysis
Crude Protein14.92%
Crude Fat10.98%
Crude Carbs1.69%
Moisture70.41%
Calcium5.22%
Phosphorus3.16%
Taurine119 mg
Calories146
Feeding Guidelines
Note: These guidelines could vary depending the breed and activity level of your cat.
Adult/Senior Cats: 
100g – 200g per day
Portions can be divided into two portion feedings or given as one.
Kittens: 
175g – 250g per day
Portions for kittens can be given 2-3 times per day