---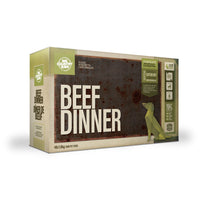 Big Country Raw Beef Dinner is hands down the best available, just ask our customers!

We use lean, high-quality muscle meat from pasture-raised beef cattle.   Quality you can see the moment you open the box and serve this up.  Watch your dog lick the bowl clean following this delicious meal!
Hormone & Antibiotic Free
Pasture-Raised Canadian Beef
INGREDIENTS Beef Dinner:Beef, Beef Heart, Ground Beef Bone, Beef Liver, Beef Spleen, Beef Kidney, Spinach, Zucchini, Broccoli, Cranberries, Blueberries, Calcium Phosphate, Calcium Carbonate, Barley Grass, Wheat Grass, Kelp, Zinc Proteinate, Manganese Proteinate, Copper Proteinate, Vitamin E
We recommend adding a Thrive® Oil to Big Country Raw Dinners.
Add Thrive® Herring Oil (the popular choice) or alternatively Thrive® Hemp Seed Oil (plant-based option) for Omega-3 Fatty Acids.   Omega-3 Fatty Acids may improve the shine and luster of the coat, reduce inflammation and aid in the absorption and distribution of essential nutrients.
SAFE RAW FOOD HANDLING INSTRUCTIONS:
Keep food frozen and thaw in refrigerator until ready to use.
Raw food must be used within 3 days after thawing
Return unused food back to the refrigerator after serving.
Serve in stainless steel or ceramic dishes.
Wash all work surfaces, utensils, serving spoons and hands with hot water & soap after handling raw meat & poultry.