---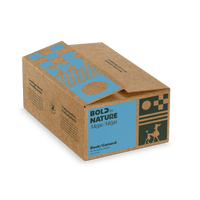 ***Special order only, stock depending, please order by Tuesday Mornings***
Real meat. Real flavour. Bold by Nature Mega Duck Patties are full of farm-fresh ground duck meat, triple- ground bone, organ meats, and veggies. Proudly Canadian, Bold by Nature Mega Duck is easy to digest, gluten-free, and made with no fillers. It fits the bill for dogs with allergies.

Ingredients
Duck meat, duck bone, vegetables*, duck liver & kelp.

*Vegetable mix consists of carrot, zucchini, collard greens & broccoli.