---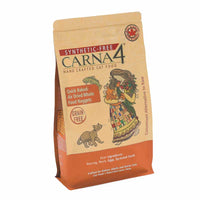 Please welcome our newest member of the Carna4 Synthetic-Free Whole Food family: Carna4 Cat Food.
Introducing the first whole-food complete diet for Cats. Completely synthetic-free (that means no pre-mix!) because our organic sprouted seed combination provides all the vitamins and minerals your cat needs for excellent health. The cats are loving the taste! Quick-baked for convenient, every-day-easy feeding of natural food for your cat.
Fish Formula Ingredients: Herring, perch, eggs, organic sprouted barley seed, salmon, ground fava beans, sweet potato, organic sprouted flaxseed, organic sprouted lentils, organic sprouted peas, potato starch, kelp, cranberry, sea salt, sunflower oil, nutritional yeast, natural baking soda.
Recommended Daily Feeding Guide
BODY WEIGHT
CUPS PER DAY
KITTEN
CAT
2
1/2
1/4
4
2/3
1/3
7
1
1/2
10
1 1/3
2/3
13
1 1/2
3/4
16
2
1
Calorie Content: ME as fed Calculated – Chicken Cat Food Formula: 4,400 kcal/kg or 407 kcal/8 fl. oz. cup; Fish Cat Food Formula: 4420 kcal/kg or 409 kcal/cup. 
Feeding Instructions:
Carna4 may be free-fed throughout the day or fed at specific meal times. Plenty of fresh, clean water should be available at all times. 
To free-feed Carna4, fill your cat's bowl each morning with the recommended portion and make the bowl accessible all day. To feed by scheduled meals, divide the recommend daily portion by the number of meals fed. If you are using Carna4 in combination with other diets be sure to calculate the calories contributed from the foods and reduce the amount of Carna4 accordingly. Although Carna4 is a great complement to raw feeding, we do not recommend feeding Carna4 and raw in the same meal.
Transitioning to Carna4: It may take several days for your cat to adjust to the richer nutrients in Carna4. Start by mixing one part Carna4 to four parts of your cat's old food. Gradually increase the proportion of Carna4 over 7-10 days until you are feeding all Carna4.
For picky cats, take several Carna4 nuggets in your hands and rub them together. Then put the food away and pet your cat all over. Doing this 2-3 times BEFORE introducing the food makes the smell more familiar to your cat and increases the likelihood they will try a new food.
Your cat may have larger stools in the early part of his or her transition period as the better quality fiber in Carna4 helps to clean out the colon. This is a normal and healthy effect and you will see the stools return to a normal size later in the transition. When transitioning to Carna4 from another diet, try sprinkling in some Flora4 ground sprouted seeds food topper to help aid digestion and normalize stools faster.