---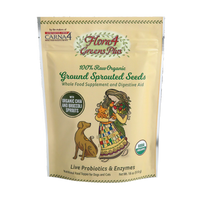 Flora4 Ground Sprouted Seeds Food Topper simplifies the chore of learning how to supplement effectively to add the live probiotics, plant enzymes, phytonutrients and whole food vitamins & minerals that are lacking in an all-meat diet. Flora4 contains only 100% raw organic sprouted seeds (a blend of barley seed, flaxseed, and lentils), ground into a fine powder and packaged in daily servings.
Ingredients: Sprouted Peas, Sprouted Chia Seed, Sprouted Sunflower Seed, Sprouted Pumpkin Seed, Sprouted Broccoli Seed
Guaranteed Analysis:
Fat 29%
Fiber 16%
Omega-6 Fatty Acids 7%
Omega-3 Fatty Acids 3%
Enzymes 879,000 units/kg
Probiotics 16 billion cfu/kg
Vitamins & Minerals Surpass AAFCO
Best for itchy skin, dry coat, immune support, as well as yeast & allergies, digestion issues, vit/min supplement.
Feeding Instructions:
*Feed therapeutic dosages for pets showing symptoms such as dry, itchy skin, yeasty ears, diarrhea or other digestive disorders. Feed 1/2 the therapeutic dosage as a nutritional supplement for healthy pets.
1  One 42g packet (about 5 level tablespoons) contains 219 kcal
 2 Measure level tablespoons or teaspoons
Made in: Canada