---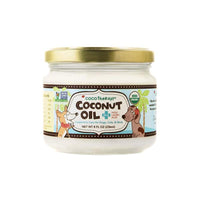 CocoTherapy Organic Virgin Coconut oil is 100% pure and natural:
Non-GMO (genetically modified organism)

Cold pressed

Hexane-free

Unrefined

Non-bleached

NO trans fat

NO hydrogenated fat
Recommended amount to give: 1 teaspoon (5ml) per 10 pounds (5kg) of body weight, or 1 tablespoon (15ml) per 30 pounds (13.6 kg) of body weight. Start slowly, for example, start at a quarter of this and build up slowly. Use similarly for cats and other animals.
Calorie Content:

40 kcal in 1 tsp (4.5 g)

120 kcal in 1 tbsp (13.6 g)