---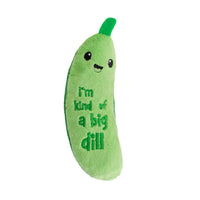 CRINKLY & CUTE DENTAL CAT TOY: This silly Crunchy Pickle Kicker cat toy is made with crinkly texture that cats can't get enough of! Great for interactive and solo play, these catnip-stuffed dental cat toys won't disappoint.
MULTIPLE TEXTURES SUPPORT DENTAL HEALTH: Mesh material helps remove soft plaque and tartar while plushy soft fabric is gentle enough on gums and won't cause irritation from excessive biting. 

PERFECT SIZE TO TOSS & BAT: The Crunchy Pickle Kicker is sized to fit perfectly in your kitty's paws as they bunny-kick and bite this enticing cat toy during solo and interactive play.

100% PREMIUM CATNIP: Stuffed with premium catnip to satisfy your cat's cravings and promote overall wellbeing and relaxation.