---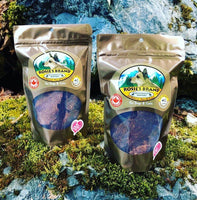 With a high energy dog like Rosie, we're constantly on the lookout for great protein options that help her stay healthy and energized.  Rosie's Brand dehydrated venison treats check all the boxes when it comes to meeting our standards.  These all-natural treats are hormaone and antibiotic free and pack a big nutritional punch!  Lean and low in cholesterol, this protein is rich in B-vitamins and minerals that help support your pets skin, coat and heart healthy while promoting a healthy weight.  Venison is also a novel protein, meaning it's a great option for pets with food sensitivities to common proteins.  Give these treats a try and enjoy all the lasting health benefits!
We suggest you break your treats into small pieces and feed in moderation, so one bag goes a long way!
Storage Instructions
Once the bag is open, we suggest keeping your venison treats in a cool, dry place and use within 90 days.
Guaranteed Analysis
Per 40g Bag:             
Carbohydrates <0.04g
Fat 8.88g
Fibre 1.2g
Moisture 1.6g
Protein 29.2g
189 calories
791 KJ