---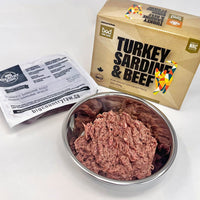 A blend of Canadian turkey with sardines and beef organ meat with barley grass and wheatgrass. Packaged in ½ lb portions each 2 lb carton contains 4 vacuum-sealed packs.
Ontario Raised Turkey
Great option for cats
Convenient 1/2 lb portions
INGREDIENTS Turkey Sardine Beef:Turkey, Ground Turkey Bone, Beef Heart, Sardine, Beef Liver, Beef Spleen, Beef Kidney, Barley Grass, Wheat Grass, Kelp.