---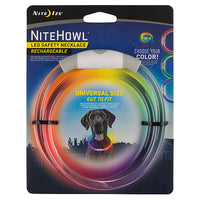 This rechargeable NiteHowl changes colors using an eye-catching color-blending pattern and offers three selectable colors. The cut-to-fit design makes it perfect for both big and small dogs, while the full ring of illumination helps keep your dog seen and safe at night.
Product Information:
Every pup deserves to shine—and with the rechargeable NiteHowl and NiteHowl Mini, they can. Providing a customizable fit and full 360° of light around their neck, NiteHowl is the perfect addition to every nighttime walk, backyard hangout, or adventure. Simply press the button on the water-resistant housing to bring the vibrant colors to life. Featuring Disc-O Select technology, you can illuminate your canine companion with color-changing Disc-O mode for a beautiful color blend, or choose from three selectable colors of red, green, or blue. NiteHowl quickly recharges via micro USB (not included) in 1.5 hours while NiteHowl Mini recharges in just an hour, ensuring your pup can keep shining night after night.
For a perfect custom fit, simply cut the flexible polymer to size and slip around your dog's neck as an eye-catching addition to their collar.
Product Details:
-Rechargeable Disc-O Select technology features three selectable colors of red, green, and blue, or color-changing Disc-O mode
-Disc-O mode features unique color-blending pattern
-Easily slides over your dog's neck as a bright addition to their existing collar
-360° of illumination
-Weather-resistant
Cut-to-size customization for a perfect fit
NiteHowl:
Cut to fit from 12" - 27" (30.5cm - 68.5cm)
NiteHowl Mini: Cut to fit from 9.5" to 14.8" (24cm - 38cm
Recharges using micro USB cable (not included)
NiteHowl recharge time: 1.5 hours
NiteHowl Mini recharge time: 1 hour
Run time:
NiteHowl: 5.5 hours
NiteHowl Mini: 4 hours
Made in USA