---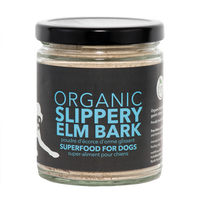 GOOD FOR:
✔️ Digestive Health
✔️ Puppies

Keeping your dog happy and healthy is no easy task. But we make it a whole lot easier with Organic Slippery Elm Bark, clinically proven to protect your dog's intestines and stomach from inflammation and irritation (like diarrhea). Our Slippery Elm Bark is 100% natural, organic, and sustainably sourced. To treat sudden cases of diarrhea, you can also fast your dog, feed bland food and give probiotics along with Organic Slippery Elm Bark to ease symptoms.

55 g | 250 mL in a recyclable glass jar
Think of slippery elm as a bowel lozenge, a lozenge coats the sore throat, lubricating it so it's easier to swallow food and liquids. Slippery Elm does this for your dog's bowels. Inflammation is reduced, and the not-so-pleasant symptoms of GI upset are eased. 
Slippery elm contains astringent tannins that soothe and reduce inflammation, reduce swelling and heal tissue. Helps to heal internal and mucosal tissues.

Slippery Elm Bark has a long history of use in Chinese, Ayurvedic, Western, and North American First Nations medical traditions.

Native American herbalists have used Slippery Elm Bark for centuries as a healing ointment to relieve stomach upset due to it's astringent and anti-inflammatory properties.

Slippery Elm Bark is an herb derived from the inner part of the elm bark and is usually used as a finely ground powder. 

Derives from the Slippery Elm tree, a deciduous tree that grows on the eastern coast of the United States.

Sustainably grown and harvested

Approved by Health Canada NN.Y8I8
100% Organic Slippery Elm Bark Powder (ulmus rubra)