---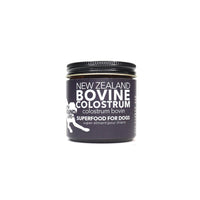 A whole food product for your dog. New Zealand Bovine Colostrum is not only nutritious, but it contains immune and growth factors, enzymes, proteins, and many other beneficial substances. It is not a cure all or a magic bullet, but it is a great, natural, holistic superfood to keep in your dog's medicine cabinet to help when your dog is not doing great.  Bovine colostrum has a long history as a nutritional supplement, particularly with the Indian Ayurvedic tradition. Known to help with allergic reactions such as itchy skin, hot spots, scooting, irritated ears, itchy feet and breathing difficulties. And, amazingly colostrum supplementation has helped in healing problems such as degenerative arthritis and hip dysplasia in our dogs. 
Note: Your dog only needs a tiny amount and our jar size reflects that. 
20 g | 100 mL in a recyclable glass jar
ABOUT BOVINE COLOSTRUM
Known to help with:
Itchy skin, hot spots, irritated ears
Hip dysplasia
Increased mobility
Increased energy
Increased strength and stamina
Improved recovery from training and injury
Decreased opportunistic infection
Increased fat metabolism
Increased lean muscle mass
For senior dogs – helps them shed excess weight, reduce joint pain and restore energy
Can be made into a paste to any skin problem such as hot spots, abscesses, wounds, and surgical incisions.
INGREDIENTS
Pure and undiluted New Zealand bovine colostrum

free of rBST and free of GMOs
IgG content regularly tested at 22-27%
First Milking – collected within 24 hours of birth. Calves' needs are met first.
Only produced during a single three-month period every year
GENERAL GUIDELINES
When introducing any new item to your dogs diet do so gradually. 
Suggested maximum use – 1/8 tsp per 15 lbs - once a day
Store in a cool dry place away from humidity, heat, and direct light