---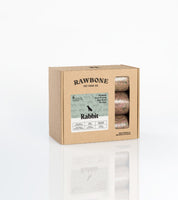 **24lb and 36lb bulk boxes are special order only, please allow 1-2 business days** 
Contains Pork organs

Ingredients: 
Whole Rabbit, Pork Heart, Pork Liver, Pork Kidney, Zucchini, Kale, Chia Seeds, Himalayan Pink Salt, Vitamins & Minerals.
Feeding Guide: 
Small sized dogs 3.5% of body weight per day.
Medium sized dogs 2.5% per day.
Large dogs 2% per day.
Food consumption will depend on the dog's size, age, activity level and metabolism. Always monitor your dog's weight.  Please email hello@rawbone.ca if you have any questions or inquiries.