---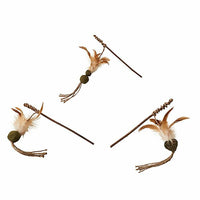 Ethical Silver Vine Cord/Stick cat toy comes in a variety of fun shapes and sizes your cat will love to bite, scratch, hunt and chase!
Silver Vine is an all natural alternative to catnip that can be found in the mountains of eastern Asia. Like catnip, Silver Vine has an exciting effect on cats. The scent alone sends them into a playful frenzy!
Features:
-Encourages and extends playful activity
-Relieves stress and anxiety
-Sharpens natural hunting skills
Picture is for reference, assorted designs based on availability.